ONLINE PRODUCTION & POWER MONITORING SYSTEM FOR SPINNING
RING FRAME | SPEED FRAME | COMBER | LAP FORMER | DRAW FRAME | CARDING
Datalog Online Monitoring System for Spinning facilitates continuous monitoring of Production and Power at each machine individually and collectively. The data is processed to generate reports that help in seamless running of all operations and identify weak areas, help textile mills continuously to improve productivity, save costs, translating into higher profits.
Spinning Mills have the choice of selection between Production Monitoring & Production cum Power Monitoring.
Production & Power Monitoring
Datalog Monitors Power parameters like KWh, KVA, Power Factor, Frequency, Voltage and Current for each Ring Frame and motor temperature (Optional) along with production data like Kg, Hanks, TPI, Doff Time, Efficiency. The integrated information helps to optimise productivity, minimise cost and maximise profits.
Central computer and user Nodes
Details of Parameters Monitored in Spinning Machines
Particulars

Carding

Unilap, Hilap Sliverlap, Ribbonlap

Comber

Drawing Breaker / Finisher

Roving / Simplex

Ring Frame

Machine Terminal with Keybord & Display

Sensor for Speed / Delivery Rate Measurement in Meters per Minute (M/Mi) / RPM

Sensor for Twist Measurement (TPI / TPM)

Signal / Sensor for Doff / Can Change Measurement

Machine Run Time Monitoring

Production in Kgs / Meters / Yards calculation based on M/Mi & Run Time

Calculate & Display of Grams per Spindle Shift (GPSS)

Calculate & Display of TPI / TPM

Signals from Machine that can be connected to Machine Terminal

Can Change Sliver Break Back Side Jam

Empty Coil Back Side Creel Break Doff Lap Jam

Doff Change Can Change Sliver Break Table Trumpet Jam Lap Jam

Doff Can Change Sliver Break Creel Break Auto level stop

Doff Sliver Break Creel Break

Long Stop Reason Entry on Machine Terminal.

Stop Start & End time is automatically sensed by Machine Terminal

Display of Production on Machine Terminal

Display of Delivery Rate / Speed on Machine Terminal

Display of Efficiency on Machine Terminal

Display of Stop Details on Machine Terminal

Power Monitoring by Installing Datalog Power Monitor with Current Transformer

Display of Following Parameters on Machine Terminal and Central Computer

Voltage - Phase to Neutral

Units Consumed per KG of production
Wiring Diagram of Datalog Power Monitor on Ring Frame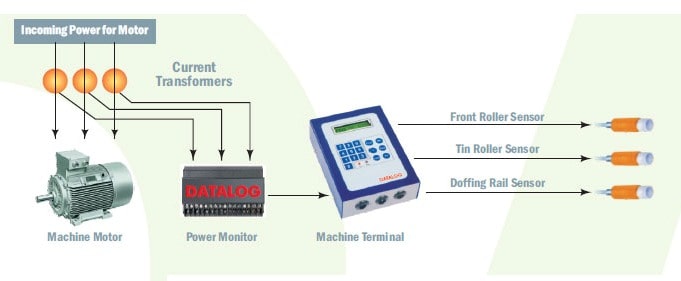 Hardware and Software configuration
A Machine Terminal is installed on each machine to monitor Production and Power data (optional) in spinning mills. Machine Terminals are connected through the Multiplexer to the Central Computer that generates various reports. Connection from the Machine Terminals to the central computer can be wired or wireless.
Datalog at the heart of productivity
When it comes to providing total solutions for textile automation, Datalog is in a league on its own. Incorporating innovative technologies, Datalog has quietly established its reputation as a trusted partner in progress for customers cross the Globe. Strong focus on R&D and clear perception of customer requirements have contributed to the company's ability to provide customised solutions to help improve productivity and quality. Datalog's facilities are top-of-the-line. A dedicated team of engineers backed by highly experienced technical people at the helm ensures that every product from their stable delivers results.
Models & Optional Attachments